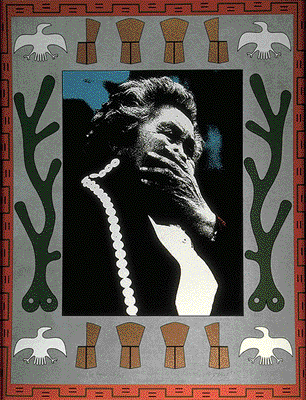 David Neel, Trial of Tears
28 3/4 in by 22 in; serigraph.

Artist Statement
Trial of Tears depicts the precedent-setting legal action of the Gitksan/Wet'suet'en people, and the government of Canada. At a cost of 2.5 million dollars, and taking over three years, this case sought to resolve the long outstanding "land question." This important Canadian ruling laid to waste any hopes of a "reasonable compromise," and is not expected to be the "last word on this case." Amid a growing national awareness of the need to deal with Native issues, this ruling has left the land question and aboriginal rights in the same nebulous state. Leaders throughout Canada have suggested that the decision "reflects a colonial view of society toward aboriginal people," and fails "to redress past injustices and heal historical wounds." Important across Canada, this debate is of particular interest in B.C. where the majority of land does not come under any treaty or legal agreement, a situation unique in North America. After 9,200 exhibits, tens of thousands of pages of trial documents, and at great expense to both parties the land question appears no closer to resolution. The central figure is of Native elder, Mary Johnson upon hearing the outcome of the trial March 8th, 1991. It was initially a front-page photograph of the Vancouver Sun. The tree of life is representative of the territory and the resources that comprise the land question. Coppers are a traditional symbol of wealth; in a dispute a chief may "break a copper," removing a piece and present it to his adversary. There are four broken coppers to represent the legal dispute, and four whole coppers to represent the unresolved land question. The four white ravens depict the ever-changing trickster. These represent the Canadian legal system and this ruling.